Today, electronics are an integral part of life – and industry. In Defence, Automotive, Pharmaceutical, FMCG, Education, Telecom, EMS, Power and many more, ESD protected areas are used for R&D, electronics assembly, end-of-line testing, repair, training & didactic centres, calibration stations, etc.
Such work areas require furniture and equipment that are ESD protected, ergonomic and flexible. An ESD work table is a crucial component of any ESD protected area. It dissipates harmful electro-static discharges away from the user and minimises damage to the critical components and sensitive electronic assemblies being produced or tested.
World-class Industrial ESD Work Tables by Messung
Messung ESD Work Tables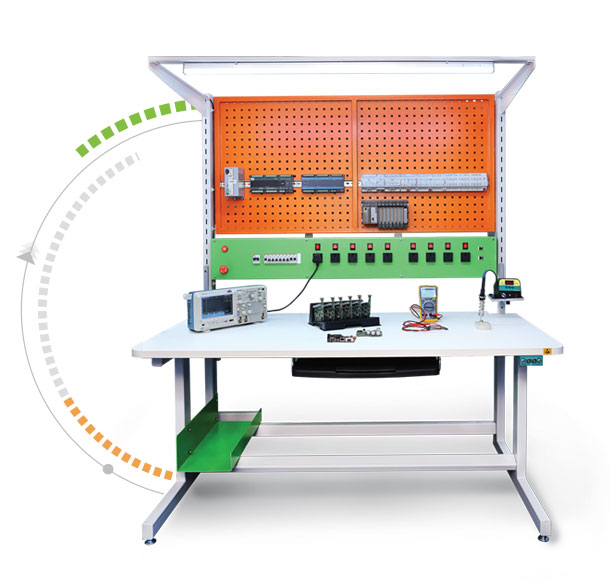 Messung is a leading manufacturer of workplace technology solutions in India. Their range of ESD-safe products includes innovative, modular & customised laboratory furniture systems that are designed to improve efficiency and enhance safety while offering user comfort. With their passion and ongoing commitment to indigenous innovation, Messung has designed and developed Mild Steel ESD work stations that deliver world-class looks and specifications at cost-effective prices.
Launched under the brand name AFM-PLUS Series, Messung's ESD work tables assure protection in ESD environments especially when using precision electronic components. AFM-PLUS tables deliver unmatched structural flexibility, ergonomics and modularity, enabling customers to define and optimise their work environment in the Electronics industry.
The AFM-PLUS ESD work stations are currently available in 2 versions: Senior with 400 Kg weight carrying capacity and Junior, with 250 Kg weight carrying capacity. A quick look at the main features of these ESD-safe work benches will explain their superior functionality and ergonomics for use in Electronic Assembly and Test & Measuring.
Main features of AFM-PLUS ESD Work Tables
Both the Mild Steel Sr. and Mild Steel Jr. work tables share common features such as the international styling, world-class finish, and ESD protection in the ESD range 106-107 Ohms as per IEC 61340-5-1.
Other special features of Messung's ESD-safe, electronic assembly tables are:
Volume ESD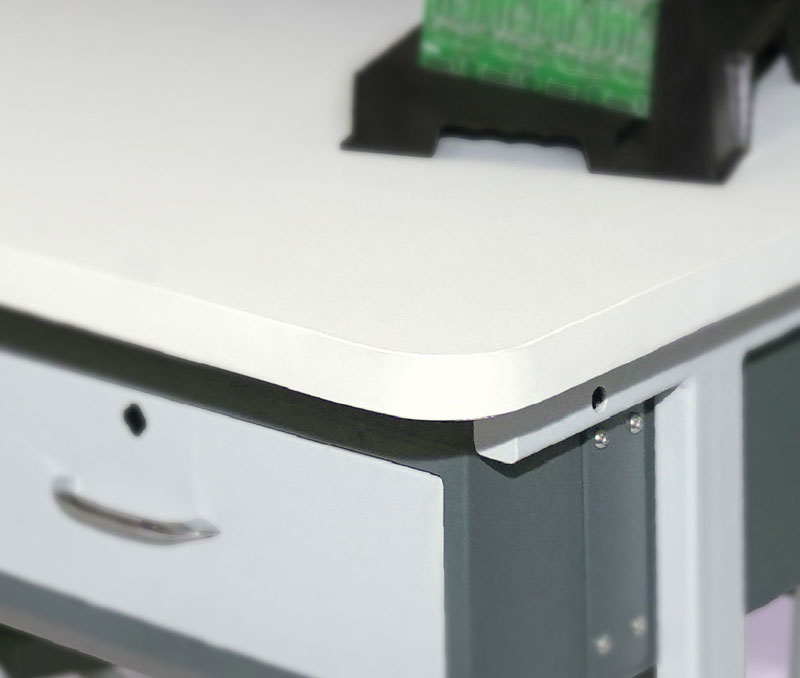 Volume ESD is the revolutionary technology that embeds carbon polymers in the base material used to manufacture the ESD product. This makes the entire worktop or storage shelves conductive with dissipative lamination on both the sides of the workstation. The properties for discharging the charge are uniformly present throughout the volume of the material as compared to its presence only on the contact surface in traditional technology.

ESD Worktop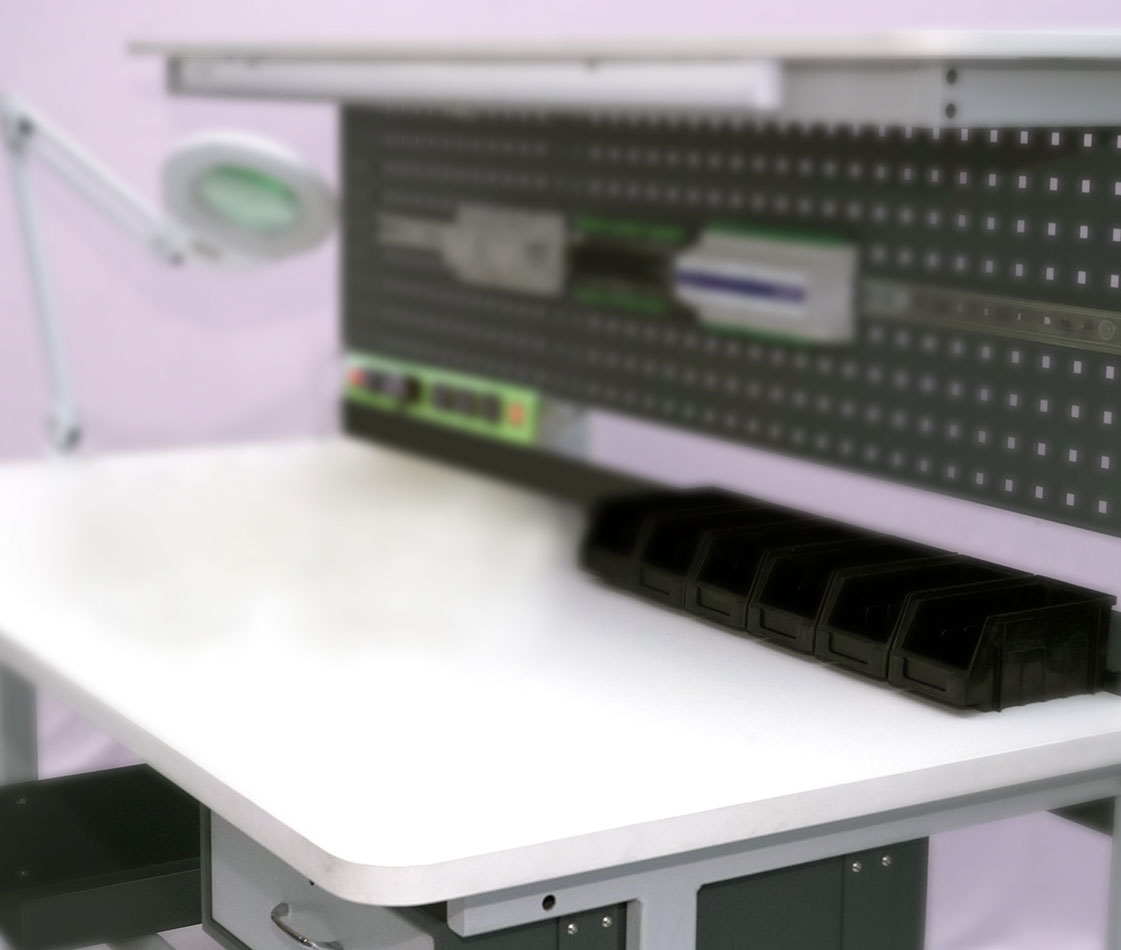 The worktop has a Volumetric ESD board with resistance between 106 to 107 Ohm, fitted on a high pressure laminated particle board with ABS 2 mm edge binding. It is Formaldehyde Emission – Class E1 (normally inflammable) as per EN 438.
The ergonomically curved front corners (50 mm radius) of the table top minimise risk of injury caused by bumping into sharp corners and facilitate free movement.
The weight carrying capacity is 400 Kg for the heavy-duty Senior version, and 200 Kg for the compact Junior version.
Ergonomic Rack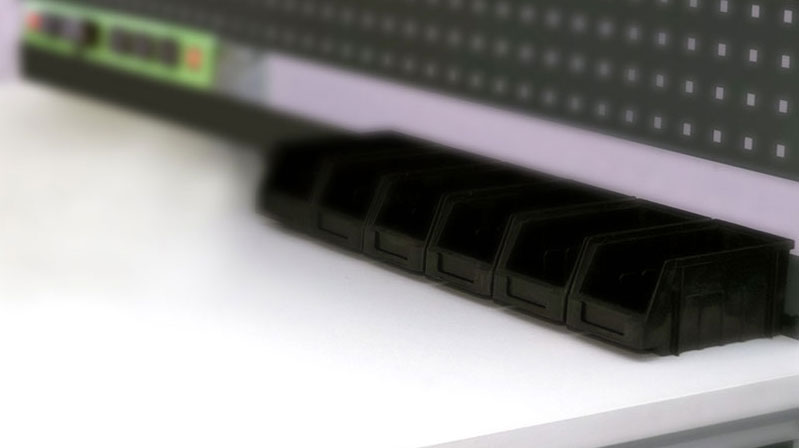 The work stations are fitted with an ergonomic rack for hanging trays to hold special tools, cables, inspection equipment, etc.
LED Light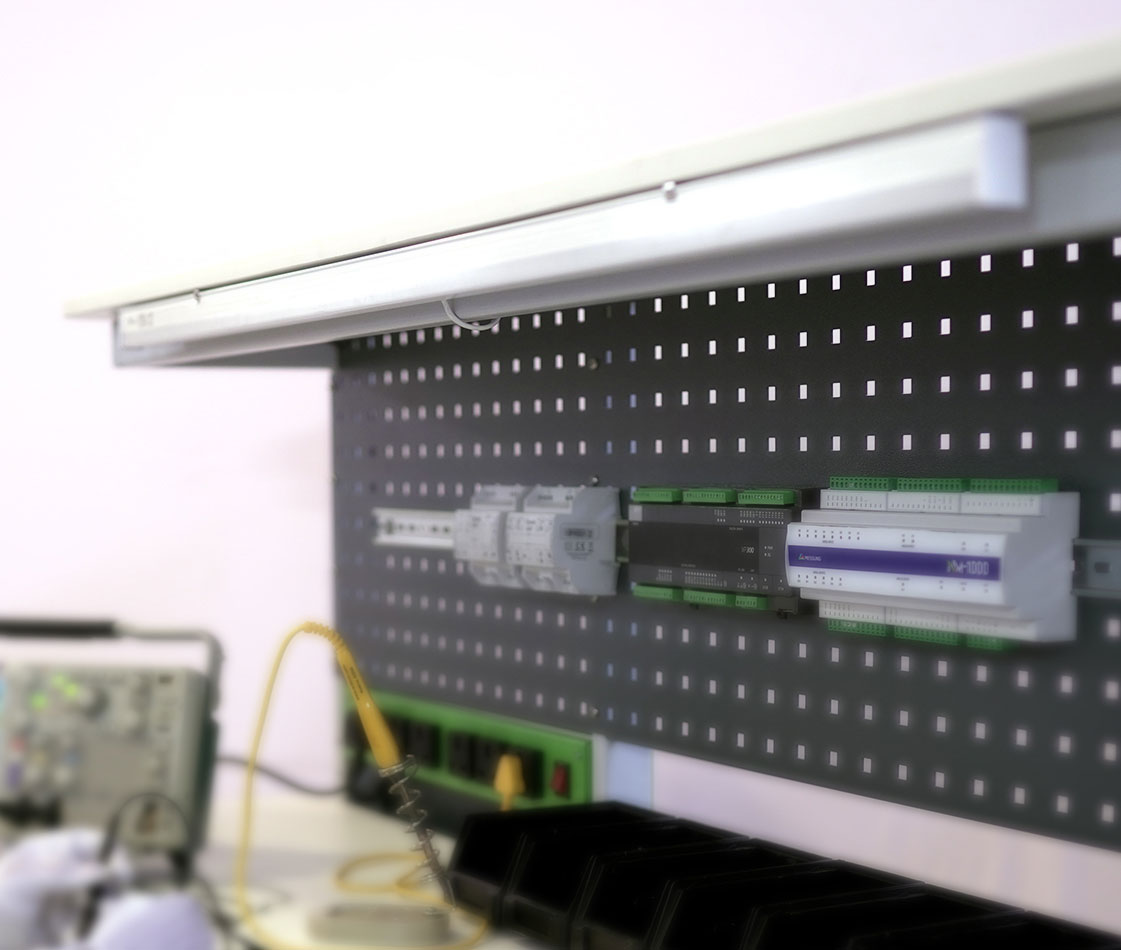 The AFM-PLUS ESD work tables come fitted with a 20-Watt sleek LED tube light with 2000 lumens intensity that provides soft radiation-free, glare-free light.
Electrical Mounting Panel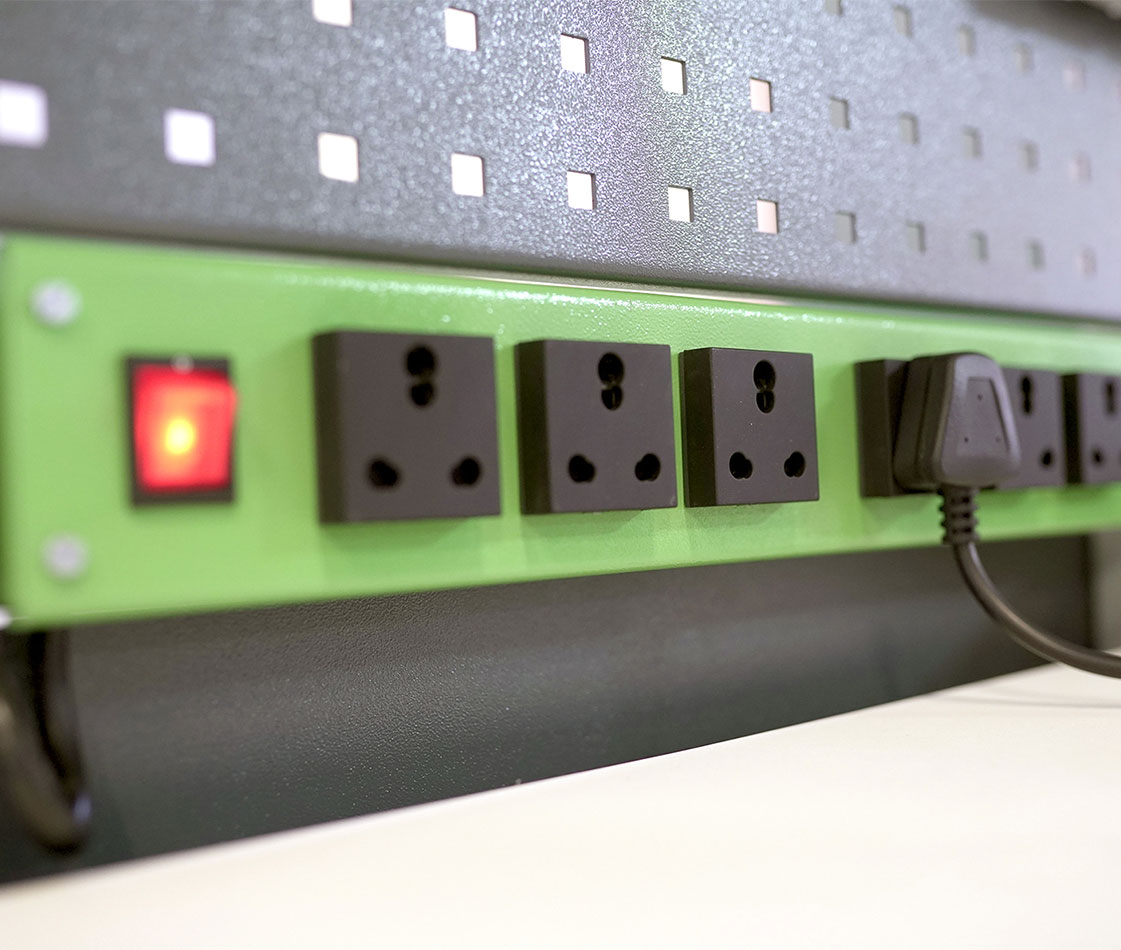 The tables have a mounting panel that is equipped with high standard universal power sockets (5/15 Amp) and with standard MCB of 2 pole/32 Amp.
Two exclusive and advantageous features of the Mild Steel Sr. are:
ESD Instrument Shelf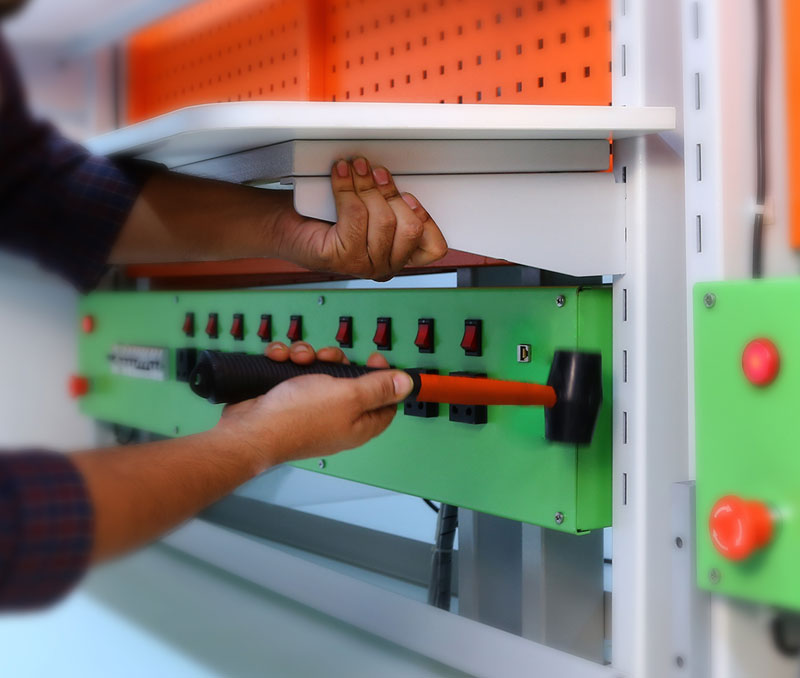 This is a Volumetric ESD board with resistance between 106 to 107 Ohm. A high pressure laminated particle board with ABS 2 mm edge binding, it has 120 Kg weight carrying capacity and easily adjustable height, adding to the functionality of this ESD safe table.
19" standard based Instrument Rack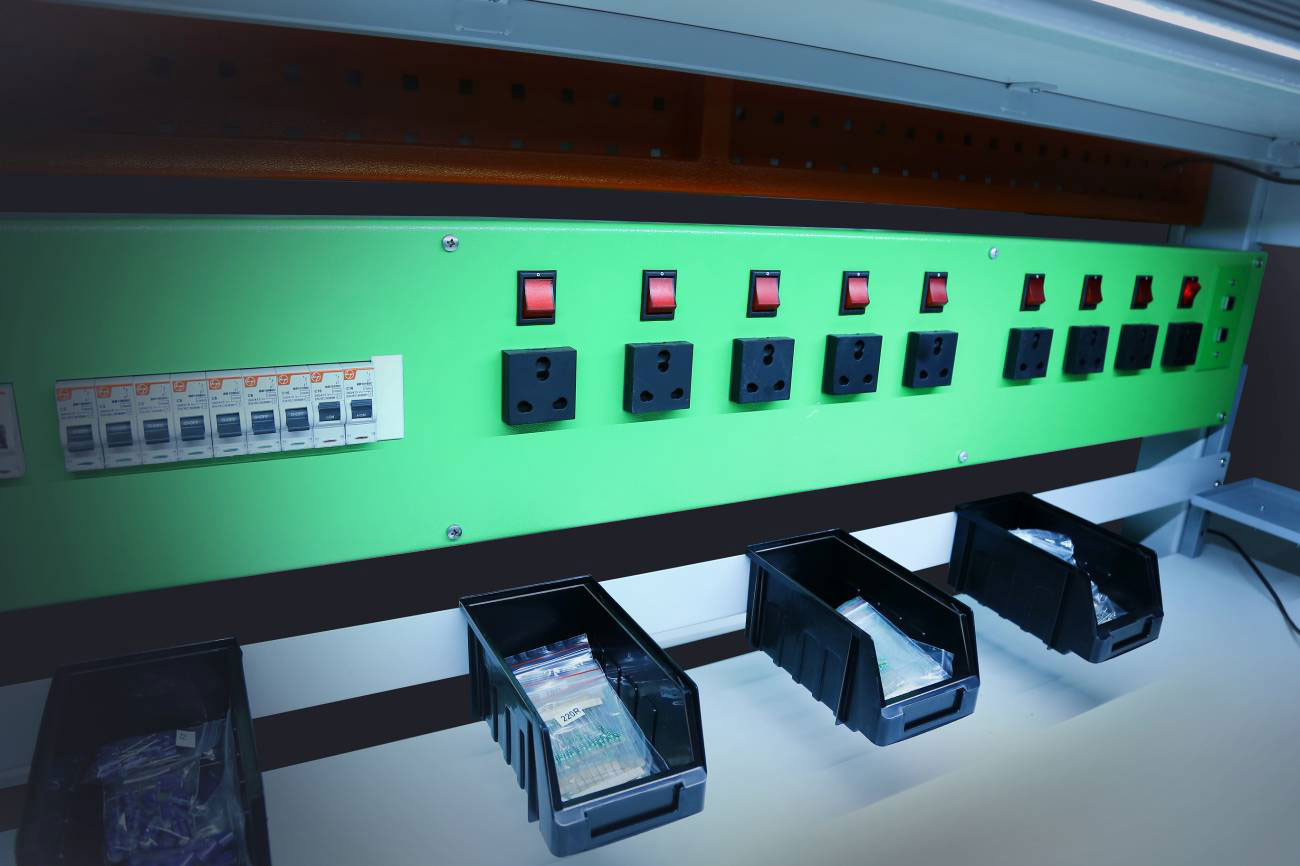 Messung's test & measuring tables can be fitted with a special horizontal 19 inch rack system mounted on the table. This provides tremendous benefit for users. Instruments are traditionally kept on the table top which leaves very little free space for the engineer to work. With the 19″ standard system, all the instruments are integrated inside it and the connections are provided on the front face of the table. This helps in de-cluttering the worktable, and the complete workspace area is thus available for testing work.

The AFM-PLUS Series of ESD-safe furniture is designed, developed and tested as per high global standards at Messung's world-class Technology Centre in Pune.
Messung is a pioneer and leader in industrial automation with four decades experience of the electronics industry. This legacy has helped Messung understand the needs and challenges of modern electronics manufacturing and testing.
Building on this deep domain knowledge and with concern for user health and productivity, Messung Global Connect Pvt. Ltd. offers a range of workplace technology solutions in India that includes antistatic workbenches, ESD tables, ESD racks & trolleys, ESD safe laboratory chairs, ESD cleanroom chairs, ESD stools and ESD mats.