When it comes to industrial workplaces, few can match the technical knowledge and industrial experience of Messung. A pioneer of the indigenous PLC in the early 1980s, Messung over the last four decades has built up sound understanding of the needs and challenges of the industrial workplace.
Messung understands that the workbench is the worker's or technician's work area, a place where he or she spends many hours of the day, working diligently to fulfil performance targets and meet tough deadlines. So it needs to be comfortable and ergonomic, conducive to the line of work. The industrial worktable also needs to withstand the heavy load of testing equipment, components, engineering parts, etc. that come to the workshop table for testing, assembly, maintenance or repair.
That's why Messung has developed modular, configurable workbench systems that can be built and adjusted to optimise individual work environments.
MESSUNG'S WORKTABLES FOR GENERAL WORKPLACES
Messung, under its 'Navonmesh – Make in India initiative', presents the AFM-PLUS Series of workplace products. Indigenously designed and manufactured, these world-class solutions are specifically designed for Indian work conditions and available at competitive prices.
Messung manufactures Mild Steel Sr. and Mild Steel Jr. for General Workplaces. These world-class industrial worktables are ergonomically designed to have all the features required for efficient and ergonomic working. Sleek and functional MS drawer assembly below the table and rack for hanging trays to hold tools, cables, etc. allow the operator to work easily and efficiently. With Messung's general workplace furniture, you're assured structural modularity, ergonomics and flexibility so you can optimise your work environment.
MILD STEEL SENIOR (AFM-TA-MS-SR)
Main features of this sturdy workhorse include:
Instrument shelf with 120 kg weight carrying capacity. Made of high pressure laminated particle board with ABS 2 mm edge binding.
Ergonomic rack for hanging trays to hold special tools, cables, inspection equipment, etc.
Electrical mounting panel with high standard universal power sockets (5/15 Amp) and with standard MCB of 2 pole/32 Amp
LED tube light with 2000 lumens intensity for soft radiation-free, glare-free light
Heavy-duty worktop with 400 kg weight carrying capacity. Formaldehyde Emission – Class E1 (normally inflammable) as per EN 438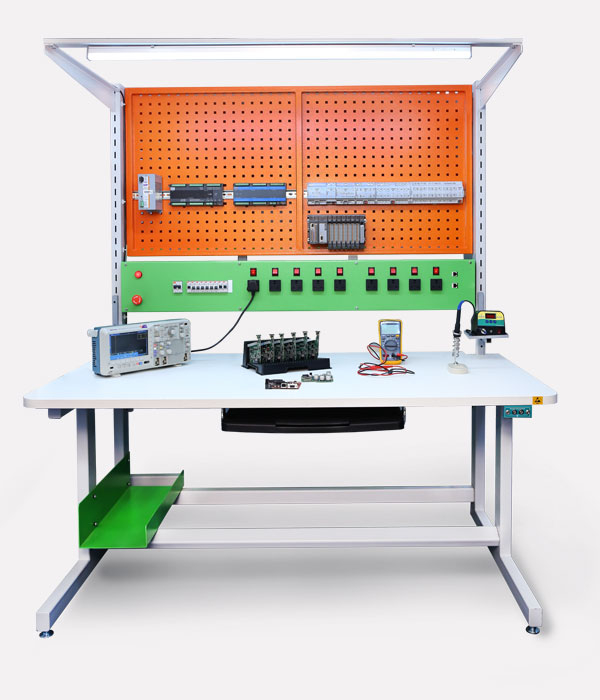 MILD STEEL JUNIOR (AFM-TA-MS-JR)
The Junior is a compact version of Senior and offers all the same features. However, there are no instrument shelves and the weight carrying capacity of the sturdy work top is 200 kg.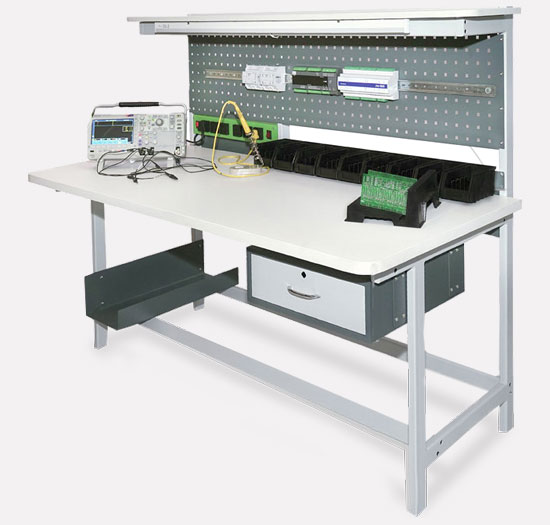 OTHER WORKPLACE PRODUCTS FROM MESSUNG
WORLD-CLASS CHAIRS
Manufactured under their unique 'Make in India' initiative: 'Navonmesh', Messung presents a range of ergonomic workstation chairs with world-class looks and specifications. They offer ergonomically contoured seat and backrests for comfortable seating that promotes good posture, reduces fatigue and enhances workplace wellness. The chairs come in three versions: Thermoplastic PU Integral Foam, Synthetic Leather and in Fabric.
MAIN FEATURES:
Adjustable back
35 degree synchro tilt
World-class, corrosion-proof chrome-plated piston
Up to 120 Kg weight carrying capacity
Aluminum die-cast five star base of 700 mm
Sturdy PU-nylon casters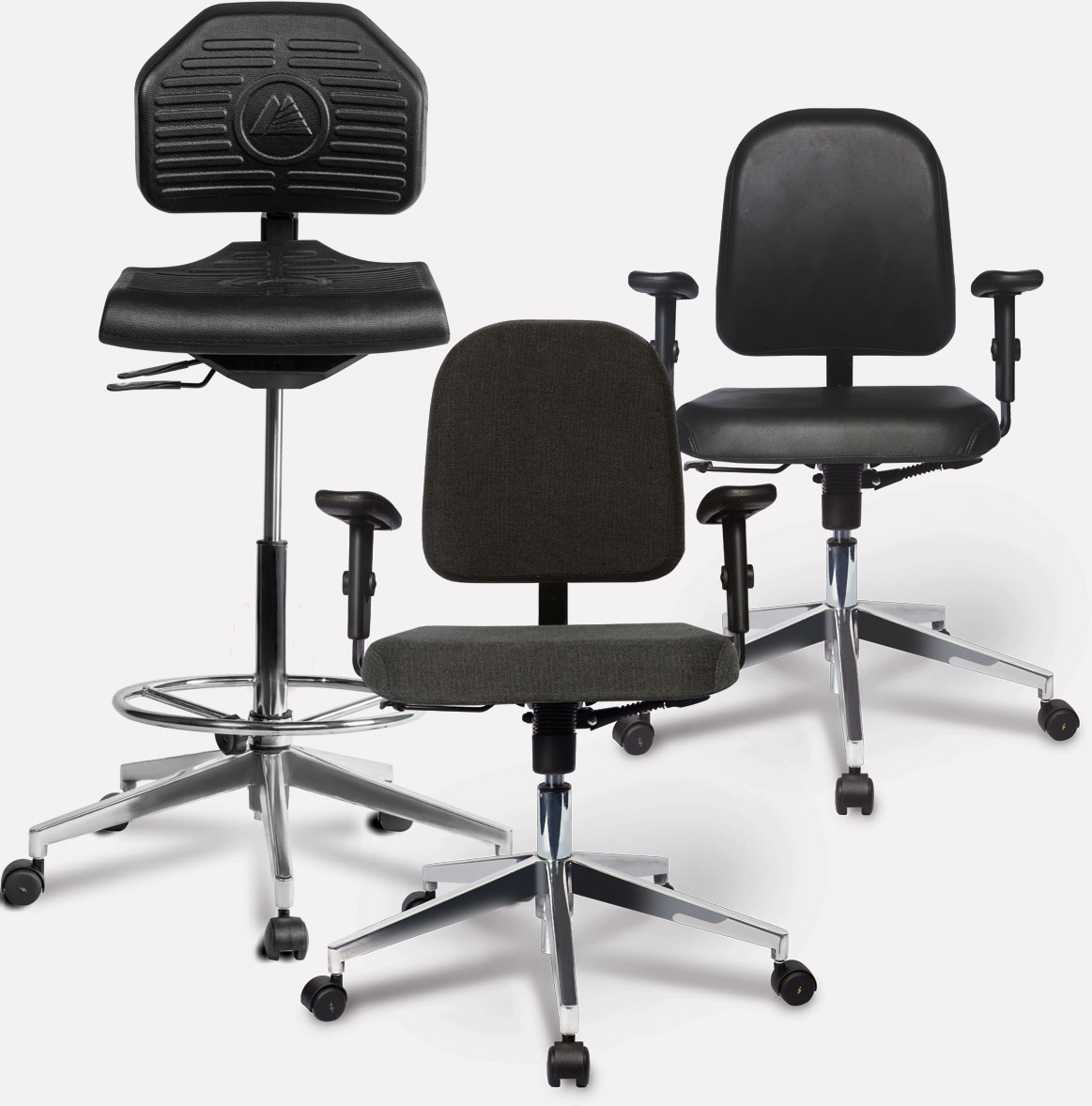 ERGONOMIC STOOLS
Similar to their range of workplace chairs, Messung manufactures industrial metal stools in standard and high versions. Available with thermoplastic PU, synthetic leather and fabric seat versions, these stools are tough, durable, easy to clean. The adjustable seat height ensures you can customise your workplace for better posture and comfortable seating for longer.
 MAIN FEATURES:
Height adjustable between 480 to 600 mm
75 mm thick seat of 35 mm diameter
World-class, corrosion-proof chrome-plated safety gas spring
Up to 120 Kg weight carrying capacity
Aluminum die-cast five star base of 700 mm
Foot ring of 457 mm diameter
Conductive casters or glides
High stool version: 580 mm to 840 mm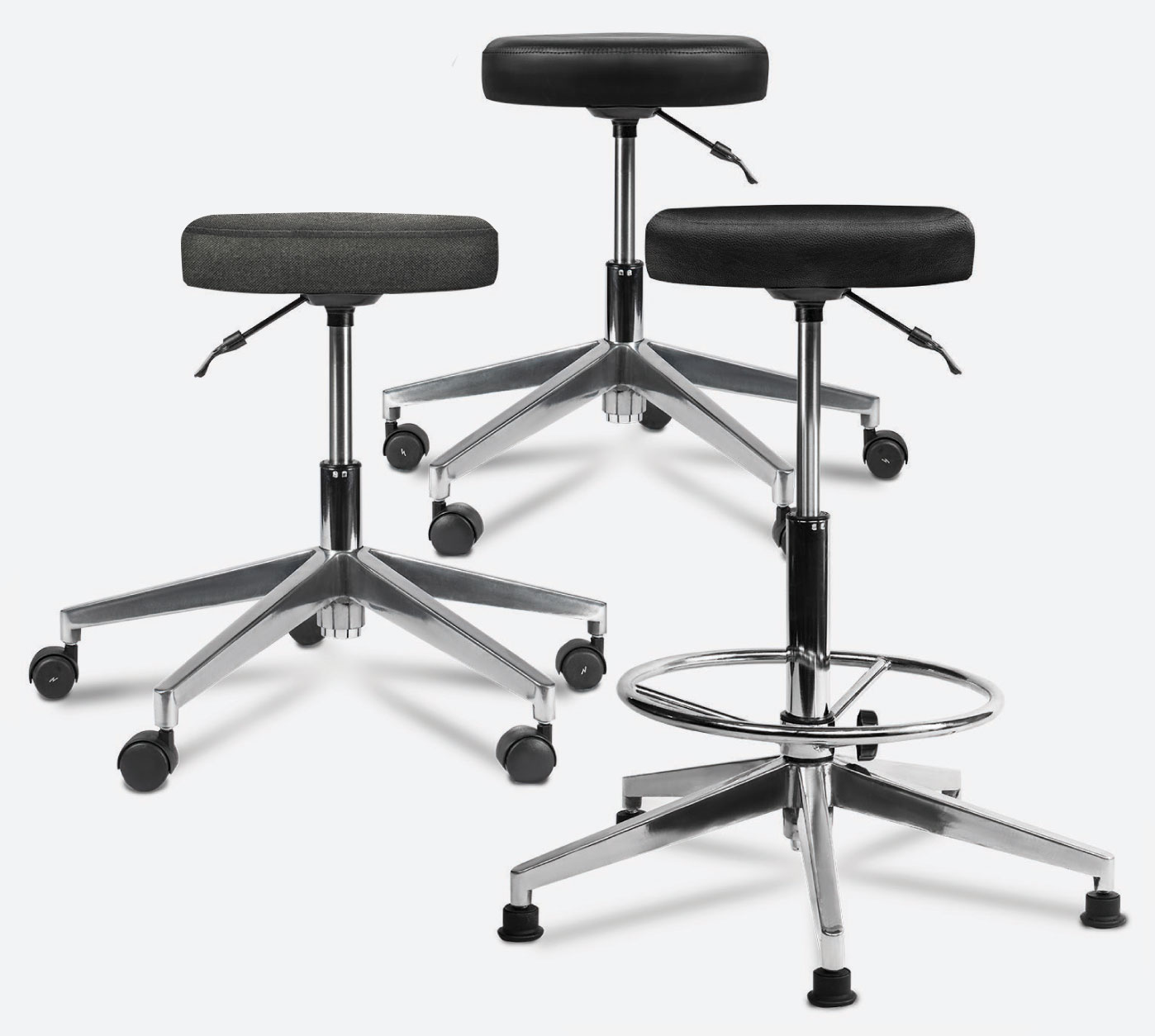 CHEMICAL LAB WORKSTATIONS
Messung also offers customized solutions for laboratories. Messung studies individual requirements and then develops the most relevant solutions. Messung's modular aluminium frame tables with SS or granite tops have helped customers create world-class facilities which are getting appreciated globally.
MAIN FEATURES:
Manufactured from aluminium frame
Can be customized for different design, size and additions like the instrument shelf, wash sink, drawers and other required accessories
In-built electrical socket modules to help users power-up easily
Granite or stainless steel table tops
Aluminium extrusion provides a stable and robust design to withstand the massive load of heavy duty laboratory equipment
CONCLUSION
Messung is already well-known in the industry for providing world-class quality ESD lab solutions. They are the pioneers in the industry for bringing the patented volume-ESD technology to India through their products like ESD workstations, ergonomic ESD chairs, ESD storage racks and trolleys.
Messung's proven expertise in designing and installing complete lab setups of global standards, complemented by their own range of ergonomic ESD and non-ESD furniture makes them the preferred partner for enterprises and industries who want to create world-class workplaces at affordable prices.
Messung's painstaking attention to detail complemented by meticulous manufacturing and testing inhouse, ensure their products add real value to industrial workplaces. With global quality standards, ruggedness for heavy-duty industrial use, ergonomics for enhanced comfort and elegant design aesthetics – Messung's worktables, chairs and stools are built to boost productivity in general workplaces.