Messung Workplace Technology is a fast-growing business of the reputed Messung Group. Building on its experience as a pioneer and leader in Industrial Automation and PLC manufacture, Messung presents a world-class range of ESD-safe products for R&D labs, testing labs, calibration stations, manufacturing departments, assembly stations and training centres spread across the Indian electronic industry.
Before we take a look at Messung range of ESD solutions, let's understand some ESD basics.
World-Class Solutions for ESD Rack Storage, Industrial Metal Stool & Storage Trolley
WHAT IS ESD?
Electrostatic discharge (ESD) is the release of static energy when two objects come into contact. Electrostatic discharge is defined as the transfer of charge between bodies at different electrical potentials.
Common examples include the shock we sometimes receive when we touch a metal doorknob; or the static electricity we feel after drying clothes in a clothes dryer. Most ESD events are harmless in daily life.
WHY IS ESD IMPORTANT?
While Electrostatic discharge (ESD) is merely annoying in ordinary circumstances, in industry, it can ignite flammable mixtures and damage electronic components. In cleanrooms, it can attract contaminants or cause products to stick together.
In this age of electronics, as electronic devices become smaller and faster and their sensitivity to ESD increases, ESD impacts productivity and product reliability in virtually every aspect of the electronics environment.
The cost of ESD-damaged electronic devices can be huge. When one adds associated costs of repair and rework, shipping, labour, overheads and damage to reputation, it's clear that ESD control needs to be treated as a priority for the sake of product and process quality, and for customer and workplace safety and satisfaction.
According to the Electrostatic Discharge (ESD) Technology Roadmap, produced by EOS/ESD Association, the devices of today and in the future will be more sensitive to ESD than those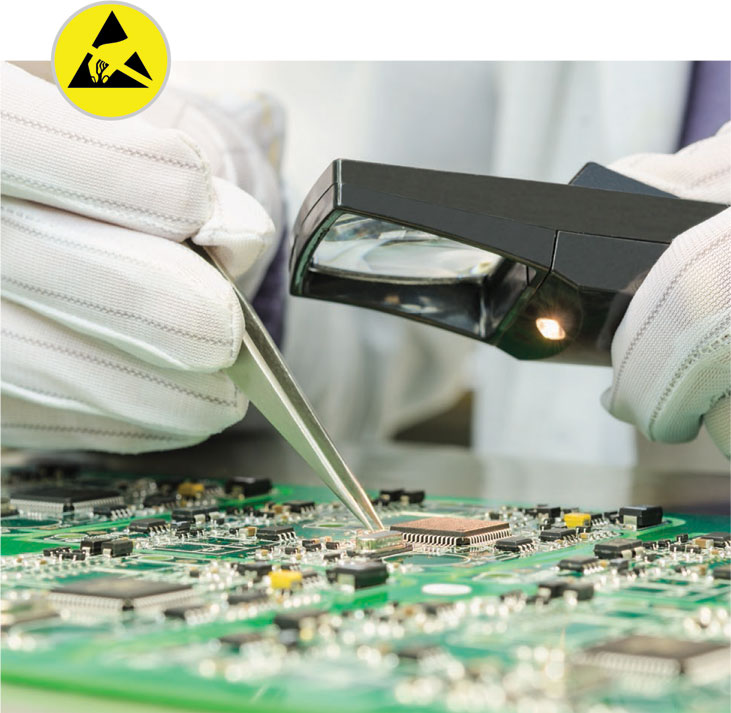 used from 1997 to 2001. Indeed, since the mid-90's, ESD immunity levels of electronic devices have steadily declined. By 2020, device sensitivities will be below 125V CDM for the most sensitive devices.
(ref: https://incompliancemag.com/article/electrostaticdischarge-how- important-is-it/)
MESSUNG ESD WORKPLACE SYSTEMS
Messung, under its 'Navonmesh – Make in India initiative', offers a range of indigenously designed and manufactured, world-class ESD-safe solutions at competitive prices.
Marketed under AFM-PLUS Series, the range of rugged and reliable ESD-safe furniture includes ESD chairs & stools in standard and high versions, besides aluminum ESD worktables, trolleys, storage racks and drawer cabinets with the latest volumetric ESD technology. These products provide world-class ergonomics, flexibility, and reliable ESD protection for years.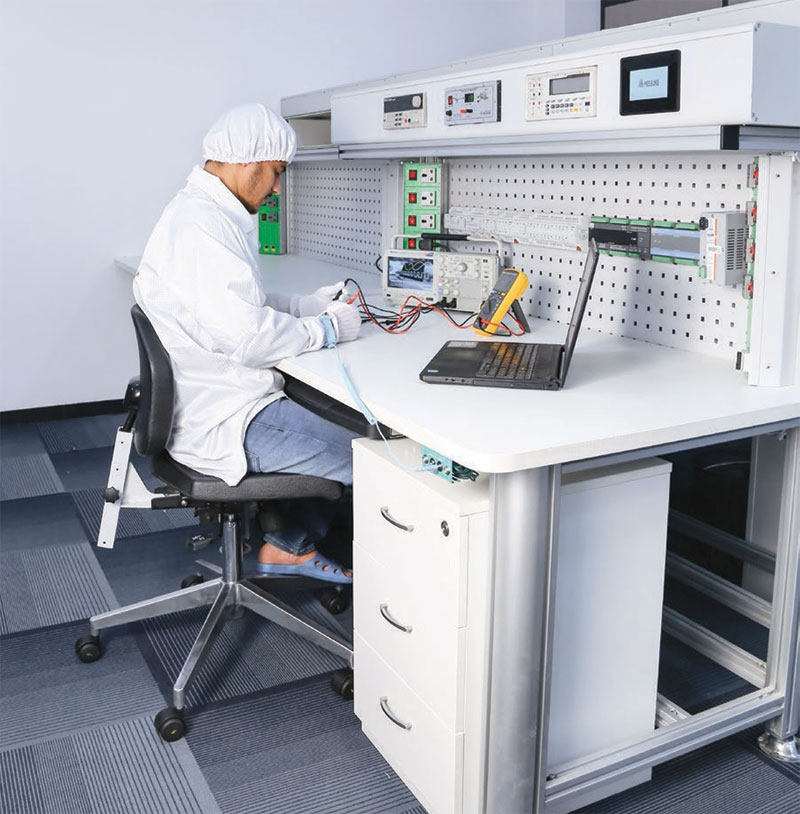 ESD ALUMINUM TABLES
Messung's AFM-PLUS Series of ESD-safe worktables offer world-class looks and specifications at a cost-effective price. Main features of these smart ESD work benches include:
ESD range: 104-108 ohms (IEC 61340-5-1 & ANSI ESD S20.20.2014)
Instrument mounting rack in 3U and 6U versions
Vertically placed electrical mounting rack
Up to 400 Kg weight carrying capacity
Well-designed perforated panel for easy mounting of electronic assemblies
Adjustable ESD foot rest
Designed to fit accessories such as magnifying glass, monitor arm, keyboard tray, bottle holder, etc.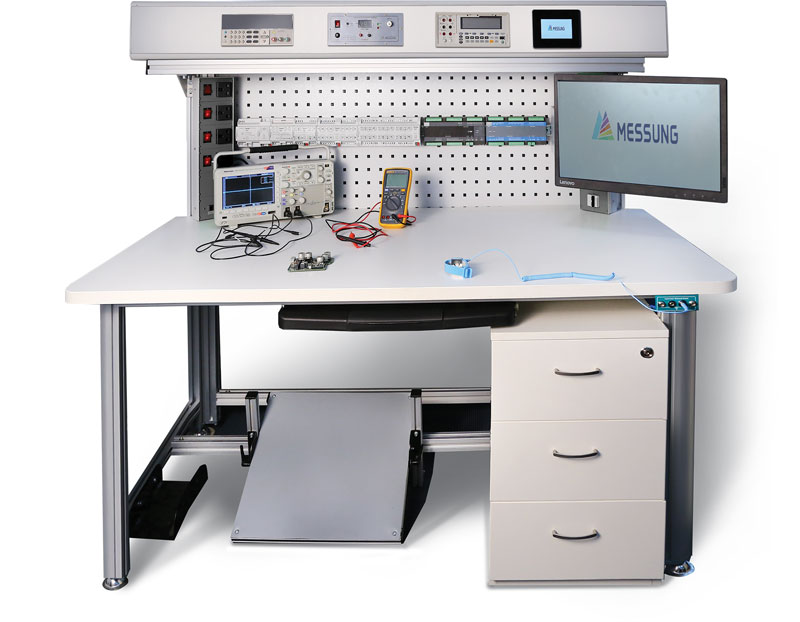 ESD CHAIRS & STOOLS
The range of rugged Volume ESD chairs and stools offer ergonomically contoured seat and backrests for comfortable seating that promotes good posture, reduces fatigue and enhances workplace wellness. Messung's AFM-PLUS ESD-safe chairs & stools are available in three versions:
Thermoplastic PU Integral Foam: Tear-proof, highly elastic Volumetric ESD PU-Integral Foam ensures ESD protection and optimal wear properties. It can be easily cleaned with Trichloro ethylene, Isopropyl alcohol (IPA), water, etc. Ideal for rough working conditions on shop floors and assembly lines.
Synthetic Leather: The seat & backrest are of removable ESD synthetic leather, upholstered on soft PU foam. Typical PU foam density is 50-55 Kg/m3 while the synthetic leather is a high-grade 0.85mm for enhanced durability.
Fabric: The seat and backrest have removable ESD fabric upholstered on soft PU foam for comfortable seating. Messung uses a higher grade of thick fabric for enhanced durability of this ESD safe ergonomic chair.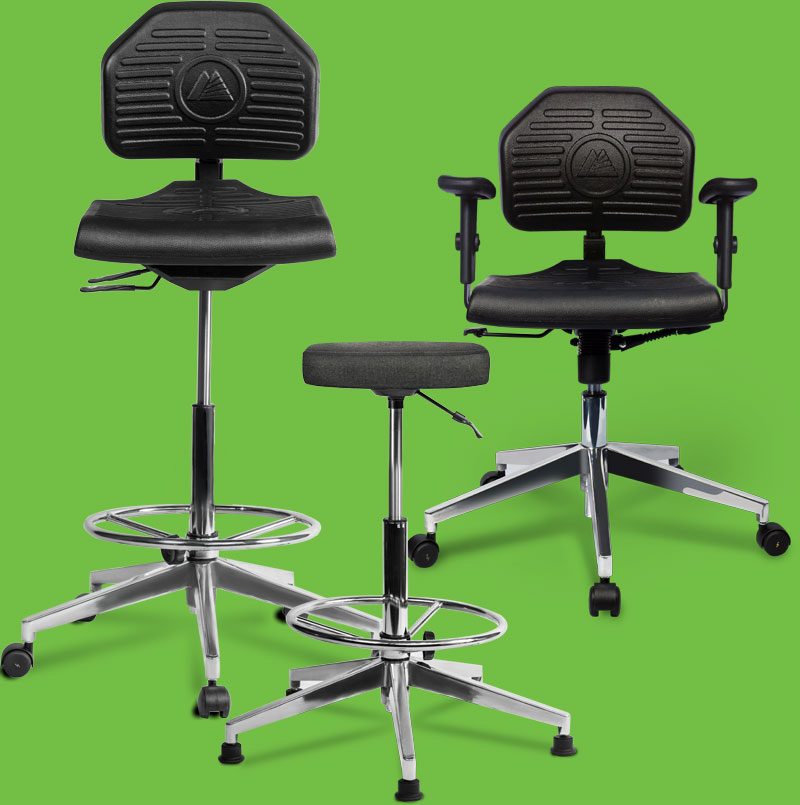 Main features of Messung's ESD-safe workstation chairs include: 
International quality piston & spring for extra reliability and corrosion-resistance
World-class mechanism with 350 synchro tilt for greater seating comfort
Adjustable seat height for better posture and comfortable seating for longer
Volumetric ESD PU-nylon casters for longer service life
Aluminum die cast base
Up to 120 Kgs weight carrying capacity
ESD ALUMINUM STORAGE ACCESSORIES
Messung also offers customised accessories such as storage trolleys, racks and drawer cabinets. These products are sleek, durable and offer reliable ESD protection for years.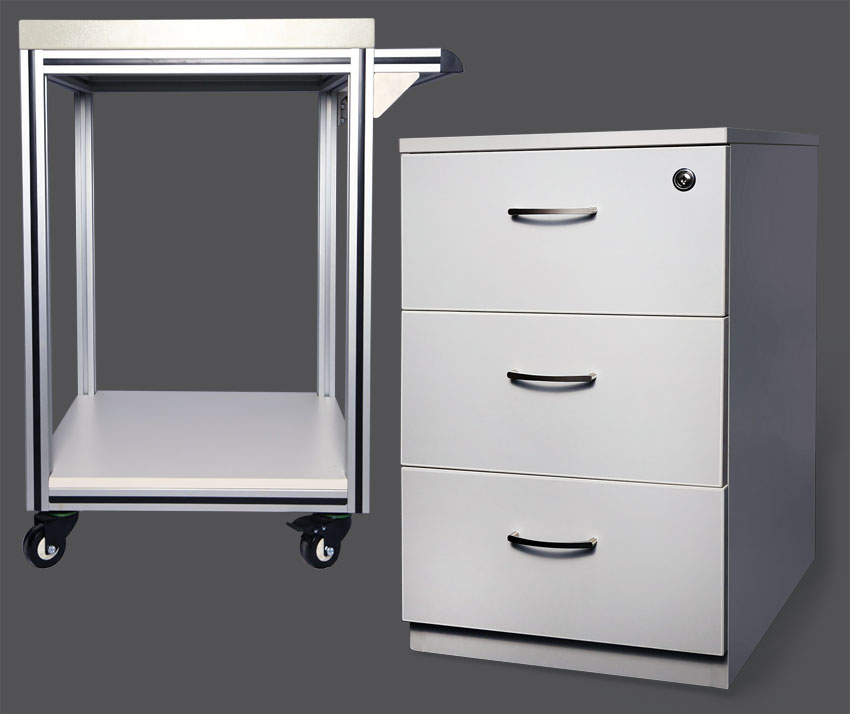 CONCLUSION
Electronics are an integral and indispensable part of modern life. Across industries, wherever people work in fields related to electronics, ESD is a real problem.
Messung's ESD safe industrial furniture helps to make work environments safe and comfortable. The modular design enables users to optimise their work environment. Messung's painstaking attention to detail complemented by meticulous manufacturing and testing inhouse, ensure their products add real value to ESD workplaces. Whether it is global IEC and ANSI-certified ESD standards, ruggedness for heavy-duty industrial use, or ergonomic design for enhanced comfort and productivity – Messung's ESD furniture passes every test with flying colours.