Cleanroom, in manufacturing and research, is a dust-free working area with strict temperature and humidity control that is of vital importance in the manufacture of equipment sensitive to environmental contamination, such as components for electronic and aerospace systems. A typical cleanroom has an atmosphere-control system that rigidly regulates temperature and humidity and bars entrance, by means of filters, of all but minuscule contamination.
Daniel Holbrook of Marshall University, traces the origins of the cleanroom in his article 'Controlling contamination: The origins of clean room technology'.
Laboratory Chairs (Lab chairs) for Cleanroom and Research Labs
ORIGIN OF CLEANROOMS
According to Daniel Holbrook, "Cleanroom technology is central to high tech manufacturing. Its development stems from the convergence of needs in several fields of manufacturing, health care, and military requirements. Small-sized mechanical and electro-mechanical devices brought problems with dirt and dust to the forefront, particularly during World War II. As electronics became a military and commercial staple, filtered and conditioned air, controlled procedures and behaviors, employee training, special uniforms, carefully selected construction design and materials, and physical isolation from other parts of the manufacturing facilities came together in the earliest cleanrooms.
Diversity in practices drove the demand for standards and fostered further developments. By the 1960s contamination control emerged as a distinct field, with clean room technology at its core. Thus established, the benefits of clean manufacturing spread to other fields and industries."
(https://www.researchgate.net/publication/249026613_Controlling_contamination_The_origins_of_clean_room_technology)
HOW TO KEEP A CLEANROOM CLEAN
To set up and maintain a cleanroom, an extensive list of products and systems are required. They include testing equipment, specialised consumables and apparel, cleaning equipment, etc. which reduce chances of contamination and ensure the environment inside the cleanroom is as per ISO-14644-1 / FED-STD-209E standards.
Furniture plays an important role too. Products such as Laboratory chairs, stools, and stainless steel tables are specially designed for use in semiconductor, bioscience, pharmaceutical, and board manufacturing in cleanrooms.

MESSUNG CLEANROOM FURNITURE
Cleanrooms are used across industries – for manufacture and testing in pharma, clinical, chemical, biotechnology, defence, healthcare, electronics, food and other industries. Messung Workplace Technology partners with clients in these sectors to help create cleanrooms that meet ISO 5/Class 100/ISO-14644-1 standards.
Currently, Messung Workplace Technology offers stainless steel tables, SS chairs & stools, SS trolleys, storage racks, lab tables, lab tables with drawers as per ISO-14644-1 cleanroom criteria, and provide unmatched ergonomics and convenience in cleanroom applications.
Messung Workplace Technology also offers Japanese-made ESD-safe cleanroom chairs and stools from Uchida. These innovative, high-quality laboratory chairs are certified by ISO class 100, and are designed and manufactured to fulfil basic cleanroom criteria.
HIGHLIGHTS OF
UCHIDA CLEANROOM CHAIRS
SEAT & BACKREST
Cleanroom class-100 compatible upholstered vinyl material
Processed material of Polyvinyl chloride and Rayon upholstered
on PU moulded foam with density 123Kg/m3
The material is tested for use in class-100 cleanroom and
is designed not to generate any contaminants
Thanks to the wide plastic trim at the joint part of seat and
back, dust from urethane cushion cannot escape easily
Uchida's cleanroom seat cushion is covered by dustproof
cloth. Thanks to this dustproof cloth, dust and dirt from
cushion cannot escape easily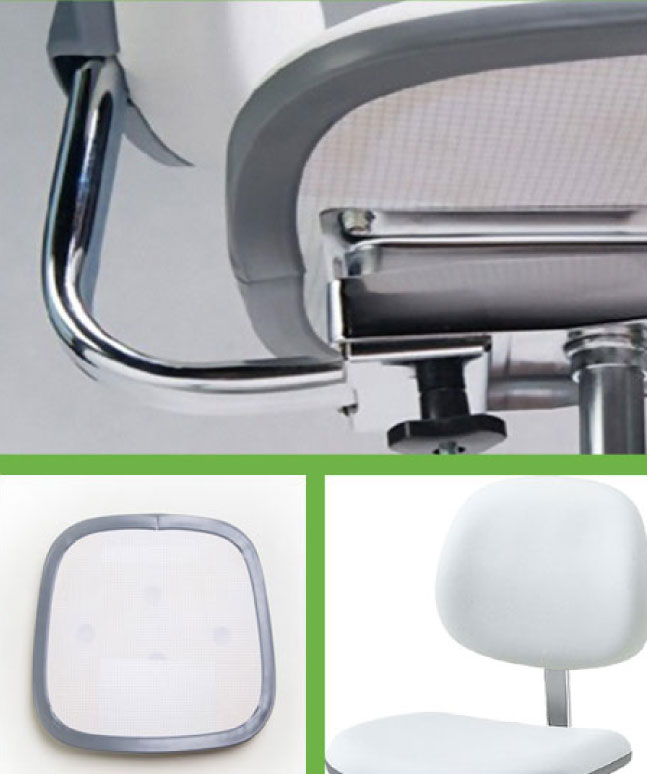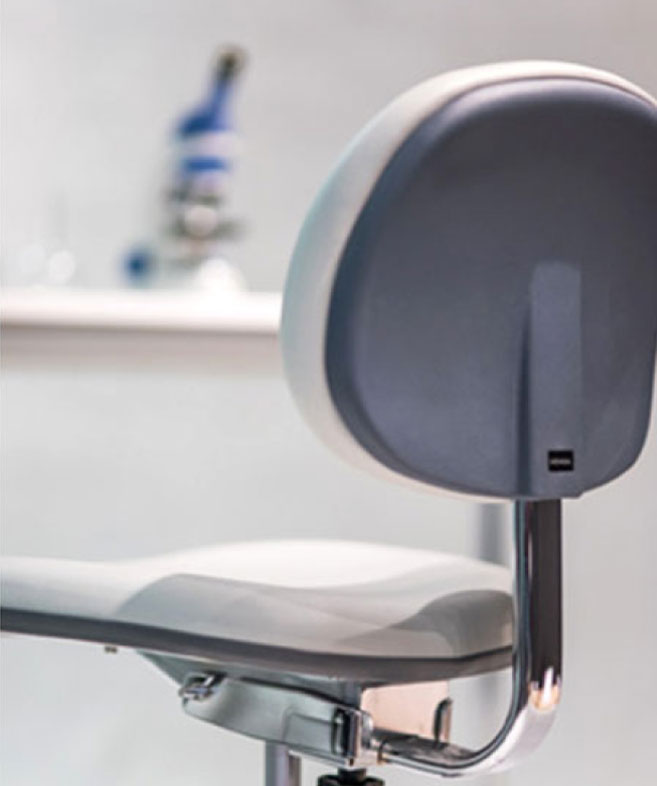 BACKREST TILT WITH TENSION ADJUSTMENT
Normal SS cleanroom metal chairs are non-ergonomic and inflexible which makes sitting on them and working for long hours in a cold
cleanroom environment a tedious task
Uchida's lab chairs have a backrest tilting feature that provides spring tension and supports the back of the user
This is an ergonomic feature provided to help customers sit and work comfortably for long hours
COMPLETE STEEL BODY
The complete steel body which includes the backrest bar, the
mechanism, the foot-ring (optional) and the 5-star base makes
the chair corrosion resistant and rust-free
This is specifically useful as the properties of steel allows it to
be used inside a cleanroom without any issues
The steel body also allows the laboratory chair to be cleaned
very easily without causing any rusting issue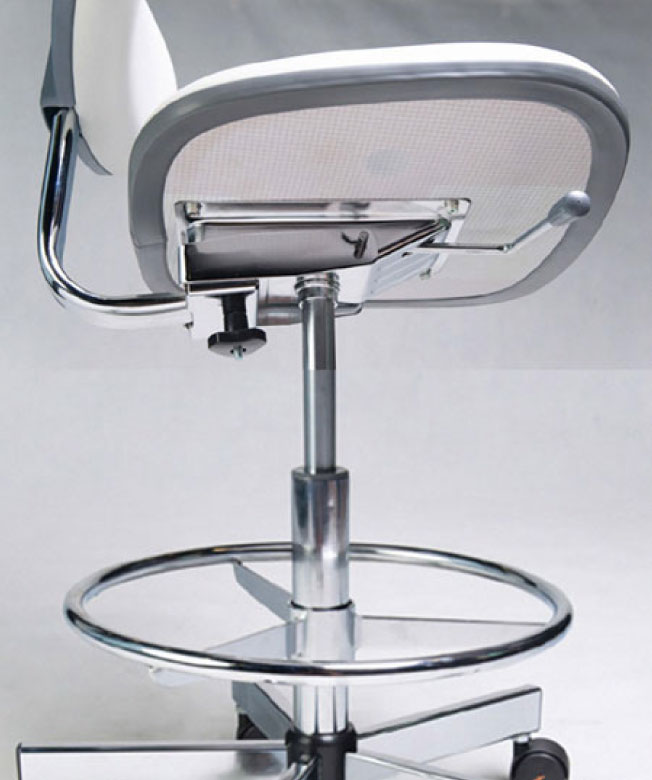 WORLD-CLASS GAS SPRING
Proprietary system is available in multiple height adjustment range
The hard chrome-plated piston rod and spindle pipe provide extra reliability and corrosion resistance.
Class-4 cleanliness level is achieved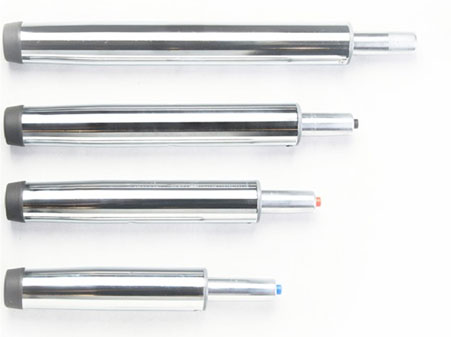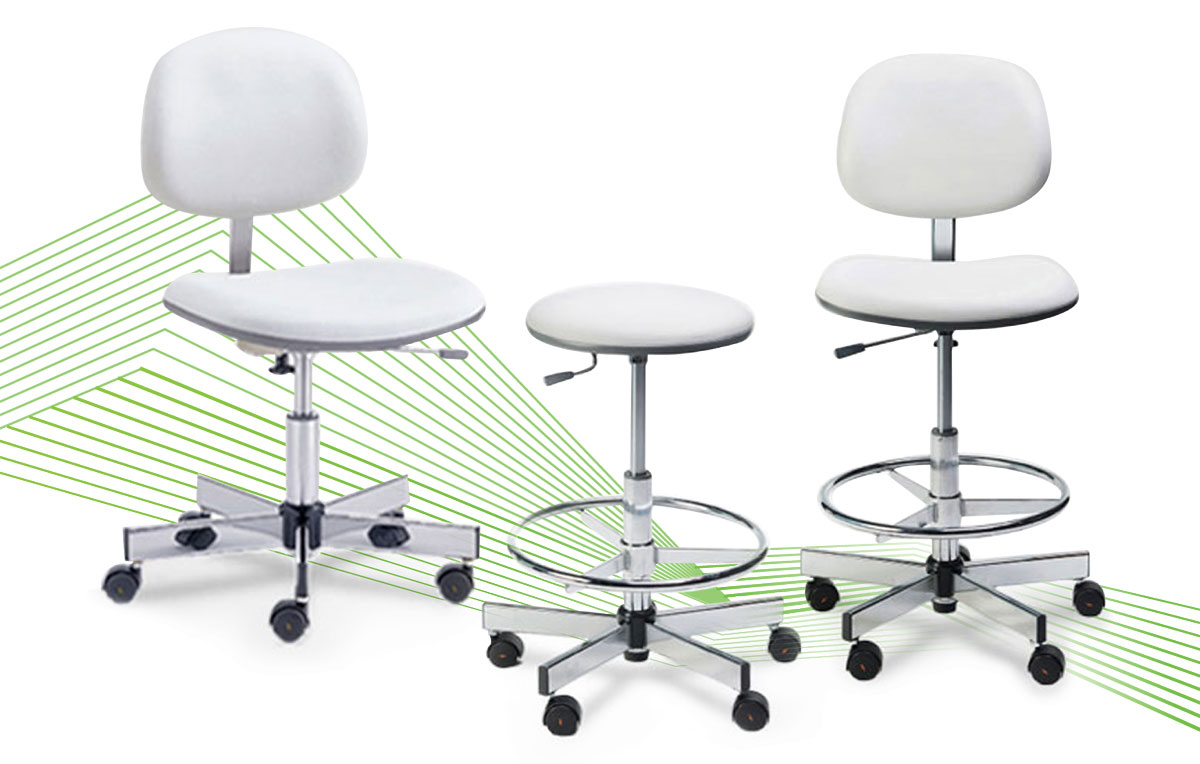 CONCLUSION
The importance of furniture in cleanrooms hardly needs to be emphasised. It not only affects the critical quality of the work, it impacts employee health. Messung has four decades of experience in industry, and indepth understanding of work conditions, compliances and global standards. Messung's AFM-PLUS series of sleek ESD workstations, ESD chairs and ESD rack storage is already well-accepted in the Indian market due to the world-class looks and features.
For scientific research or specialised industrial production of products such as electronics, pharmaceutical products, medical equipment, etc., where cleanrooms are essential, Messung's cleanroom systems provide efficient and cost-effective solutions. What is more, Messung studies customer requirements and can tailor the best, most relevant solution for customised efficacy. Call Messung Workplace Technology today.