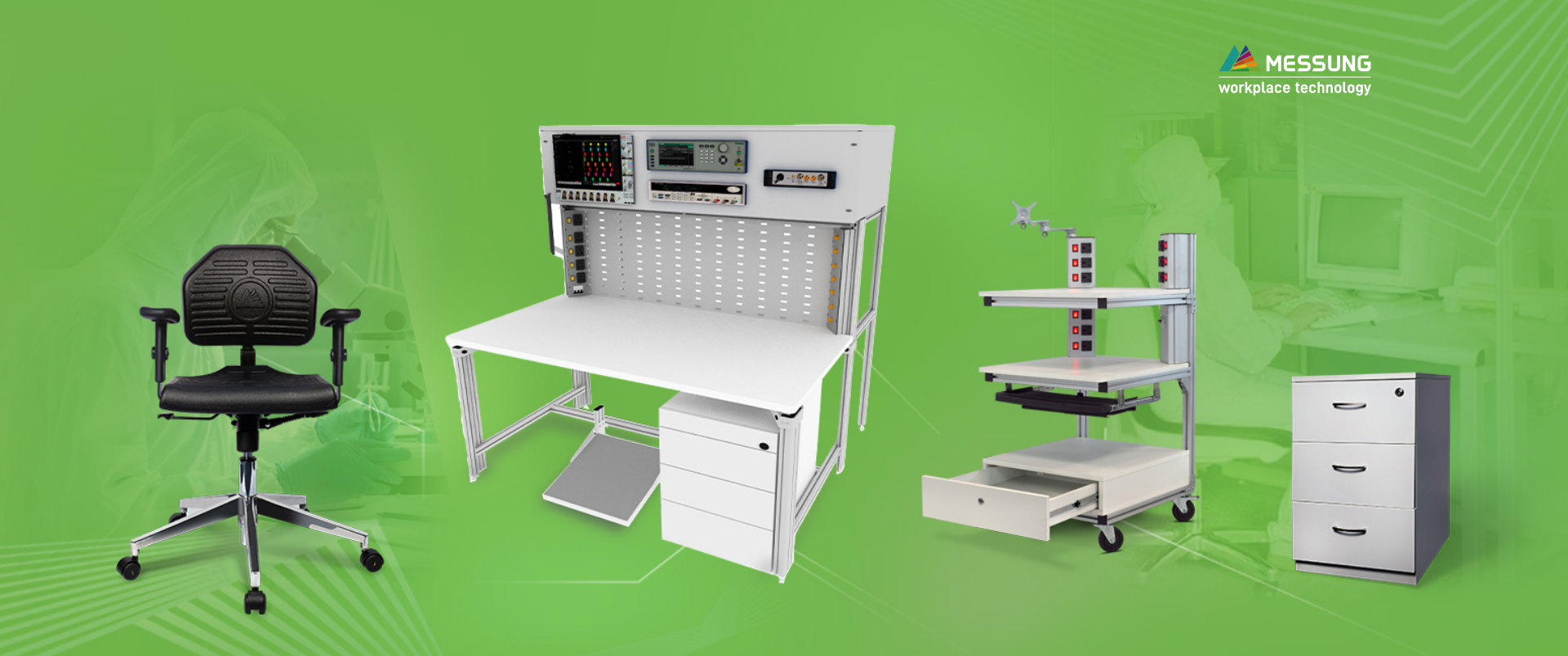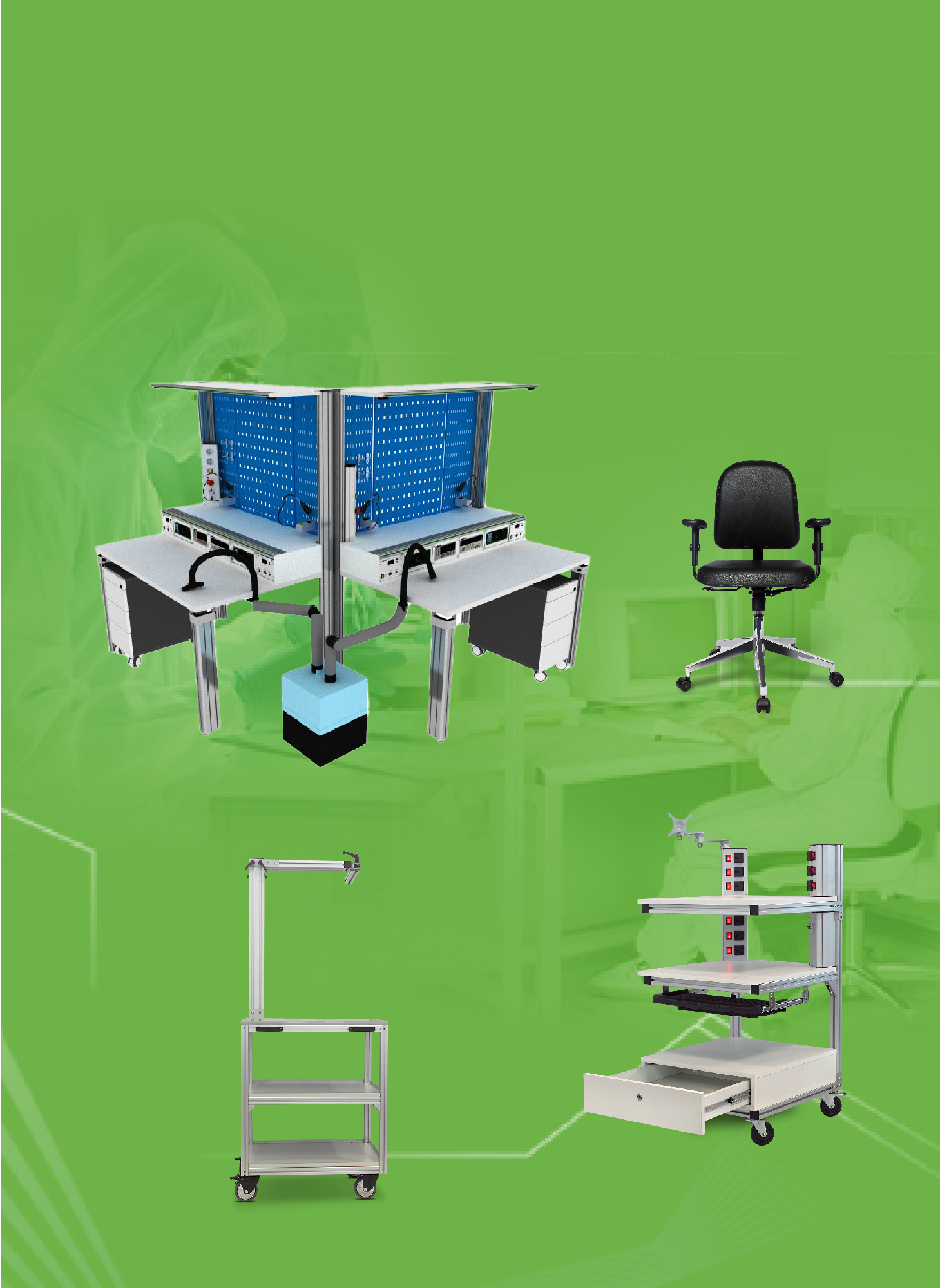 Crafting tailored ESD solutions
to suit your specific requirements What Is ESD?
ESD is the phenomenon of static electricity discharge when two electrically charged objects, such as the human body and an
electronic device, come into contact with each other. This high voltage pulse generated by the human body enters the
electronic device, resulting in a malfunction or destruction of the IC circuits inside it. Hence, it is necessary to install
countermeasure components that suppress or remove ESD.

Advantages of esd

Safeguard electronics devices
& high impedance components.

Prevent damage to miniature
electronic components.

Prevent accumulation of dust &
other airborne pollutants.

Reduce ignition risks from
sparks during static discharges.
Ensure product reliability and
worker productivity.. Why choose messung
● ANSI/ESD S20.20-2014 and IEC 61340- ESD Standard


● DIN EN 312-Standard for High Pressure Laminated
Worktop


● The table top is raw chipboard, allowing electro-static
discharge with a thin chipboard top as per IEC 61340-5
(volume conductive)


● Decorative side with 0.8 mm brilliant HPL, 28 mm
thick HPL chipboard, ergonomic 50 mm rounding on
front corners, 1600 mm x 1000 mm (LxD).


● Core Material Premium Board P2 ESA Electrostatically
dissipative particleboard, Type P2 to DIN EN 312

● Chemical Resistance: against organic solvents,
slight acids and lye, benzene and oil, as per DIN53799


● Temperature Resistance: Short time 180°C


● Earth Connection Resistance: 1 x 10⁴ – 1 x 10⁹ Ohm


● Volume Resistance: 1 x 10⁴ – 1 x 10⁹ Ohm
Measured dry, measurement voltage 100 V DC,
cylindrical electrode, 20 – 30°C fund 20 – 50%
relative humidity (conditioned for 96 hours)


● Formaldehyde Emission Class: E1 ESA = Static- dissipative
• ANSI/ESD S20.20-2014 and IEC 61340- ESD Standard


• DIN EN 312-Standard for High Pressure Laminated Worktop


• The table top is raw chipboard, allowing electro-static discharge with a thin chipboard top as per IEC 61340-5 (volume conductive)


• Decorative side with 0.8 mm brilliant HPL, 28 mm thick HPL chipboard, ergonomic 50 mm rounding on front corners, 1600 mm x 1000 mm (LxD).


• Core Material Premium Board P2 ESA Electrostatically dissipative particleboard, Type P2 to DIN EN 312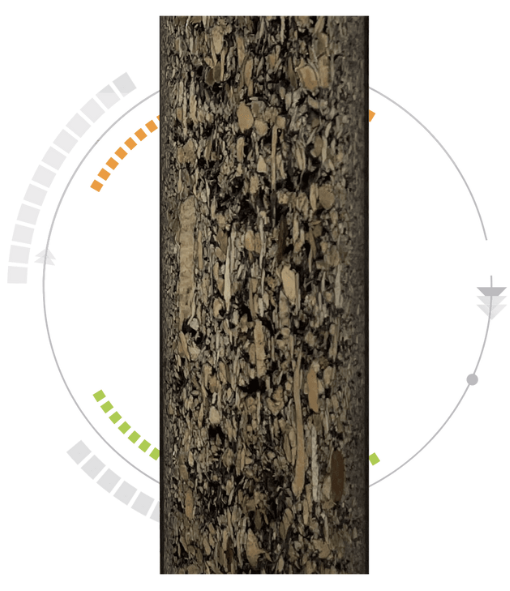 • Chemical Resistance: against organic solvents, slight acids and lye, benzene and oil, as per DIN53799


• Temperature Resistance: Short time 180°C


• Earth Connection Resistance: 1 x 10⁴ – 1 x 10⁹ Ohm


• Volume Resistance: 1 x 10⁴ – 1 x 10⁹ Ohm Measured dry, measurement voltage 100 V DC, cylindrical electrode, 20 – 30°C fund 20 – 50% relative humidity (conditioned for 96 hours)


• Formaldehyde Emission Class: E1 ESA = Static- dissipative