Custom Design Industrial Lab Tables with Drawers from Messung Systems
Author: MESSUNG SYSTEMS PVT. LTD.
Application Areas:
Chemical laboratories
Special Category Cleanrooms
Inspection and Quality control rooms for Chemicals, Bio-tech, Pharma, Food & Beverages, etc.
Messung with its expertise in manufacturing high quality Industrial furniture has become a well-known brand with top companies in Electronic, Pharmaceutical, Government and defence sectors. Messung is already well-known in the industry for providing world-class quality ESD lab solutions. They are the pioneers in the industry for bringing the patented volume-ESD technology to India through their products like ESD workstations, ergonomic ESD chairs, ESD storage racks and trolleys.
Messung's customized modular aluminium frame tables with SS or granite tops have helped customers create world-class facilities which are getting appreciated globally.
Messung is a specialist supplier of custom design workplace solutions suitable for special cleanroom chemical or wet lab applications, to multinational companies in India. Messung has proven results in multiple sites across India; be it their Bio-tech lab or Chemical R&D lab, Messung has catered to their varying requirements with products like Lab workbenches, island workbenches, special storage systems, seating systems, trolleys, racks, storage cabinets, etc.
THE CHALLENGE
Traditionally, all the chemical labs were designed using locally made workstations and chairs. These workstations were fabricated and made as per the designs provided by the customer. However, these were very difficult to modify when the requirements of the lab changed. Thus they required a modular design which could be modified when new requirements evolved. In this new design they mandated to incorporate a new special custom designed workstation which would be resistant to water and chemicals which they were supposed to use. One important feature which the customer mandated was attachment of wash basins to the workstations as it was a 'wet' lab. Other features like cabinets for storage of chemicals, shelves for placing the instruments were also to be inculcated in the design.
The customer also faced an issue of arranging the instruments on the workstations. As the workstations did not have any power connections, the power to these instruments was taken with the help of extension boards from the power sockets available in the lab. This created a lot of wires running on the ground and made the lab unsafe and unprofessional. The instruments and equipments also weigh a lot which cause weight carrying issues with the current setup. Our tables are designed to take a weight of 500kg on the table top and 200kg on the shelves.
Also, the customer was using standard chairs in the lab area which had caused them issues of compliance with the auditing agency.
They required a solution which guaranteed them a globally certified product which could be accepted by the auditing agencies and would also be comfortable for the scientist to sit and work for extended hours. The objective was to achieve productivity and compliance at the same time.
THE SOLUTION
Once the challenges were identified by the customer's team, they approached Messung for providing the new-age lab solutions. Messung, being well-known in the industry for designing and commissioning world-class customised new technology cleanroom & chemical laboratories, was the obvious choice for providing solutions to their challenges.
The approach followed by the Messung team was systematic.
In the first stage of operation, the requirements and the existing set-up was analysed.
In the following stage, a solution in the form of 3D designs of complete lab layout including the furniture was provided against the challenges posed by the customer.
Messung undertook a complete overhaul of their existing lab by providing advanced technology, completely modular and customised workstations and fully-ergonomic chairs for customer's wet lab.
ABOUT MESSUNG CHEMICAL LAB WORKSTATIONS
Messung chemical lab workstations are manufactured from aluminium frame and can be customised for different design, size and additions like the instrument shelf, wash sink, drawers and other required accessories. They come with in-built electrical socket modules to help customers power-up their instruments easily. These modular workstations can be easily customised to provide table tops of different materials like Granite or Stainless Steel.They provide modularity, durability, aesthetic looks and user-friendly designs to match the customer's requirements. Also, the aluminium extrusion provides a stable and robust design to withstand the massive load of heavy duty laboratory equipment.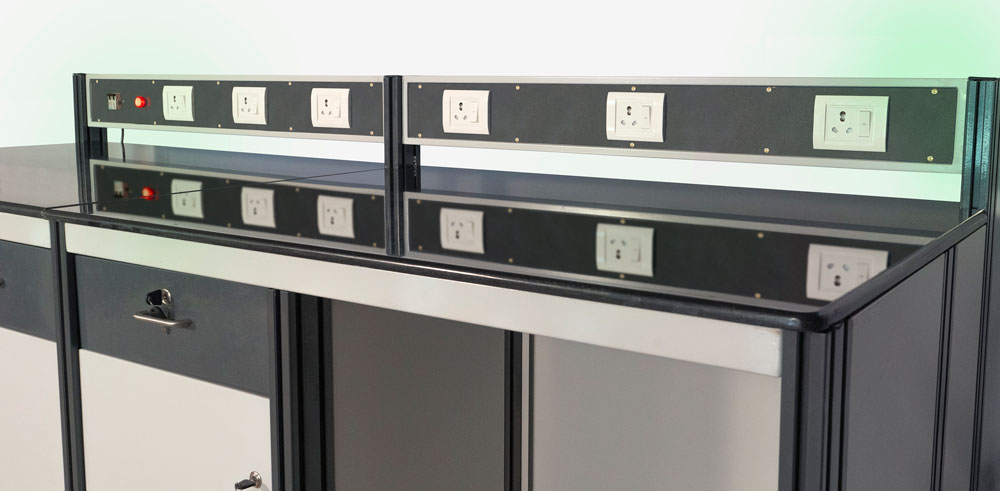 For this requirement, Messung provided the customer with special customised designs which had granite tops and also included features like a wash basin and instrument shelves. This design solved the customer's need of using the workstation in their wet/chemical lab area. All the material used for cabinets, workstation frames and basins adhered to strict guidelines for use in chemical wet area of the customer.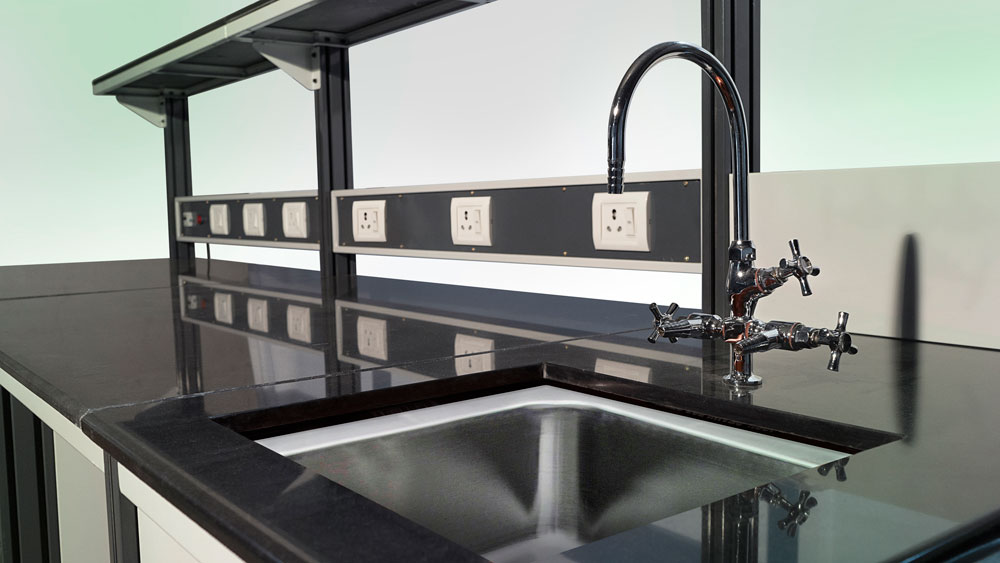 ABOUT MESSUNG CLEANROOM CHAIRS
Messung class 100 cleanroom chairs and stools are ergonomically transforming lab areas by providing extremely efficient, safe and comfortable seating. These products are designed and manufactured to fulfill the basic cleanroom criteria: should not generate any pollutants, should be easy to clean and eliminate any contaminants, and should not bring in any foreign pollutants. The special material used for the manufacturing of the chair and the manufacturing process which happens in a class 100 cleanroom area, guarantees that these principles are adhered to. The certification by SGS Labs, USA for use in cleanroom areas following Class-100/ISO-5 standards is proof of our high quality standards.
OUTCOME
The new lab has been transformed – and not just in appearance! Besides world-class looks, it provides world-class specifications which have helped to satisfy compliance and improve the performance of the lab setup – the two main objectives of the project. The technologically advanced, ergonomically designed, modular laboratory workstations and cleanroom chairs allow the team to work with better efficiency than before. Overall, the new labs satisfy and exceed all the requirements laid down by the customer's Facility Management team and have guaranteed them a product of extreme durability, flexibility and dependability.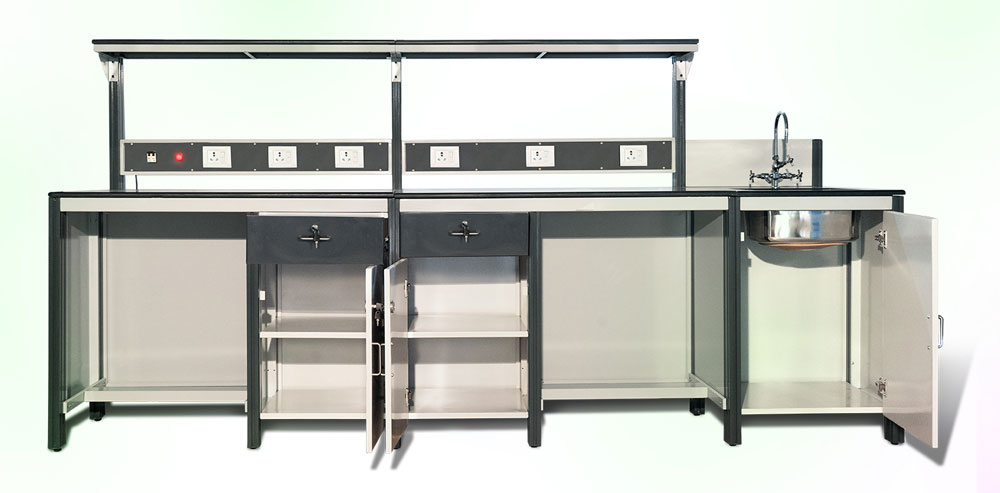 Messung loves a challenge, and works diligently to design and deliver the most satisfactory solution. Messung is proud to partner with Pharmaceutical, Chemical, Food processing and other sectors to provide stylish and world-class workplace technology solutions in India. Messung's proven expertise in designing and installing complete lab setups of global standards, complemented by their own range of ergonomic laboratory worktables and cleanroom chairs as per ISO 14644-1 safety standards, makes Messung the ideal partner for Chemical and Cleanroom laboratories across industries.