A cleanroom is an environment, typically used in manufacturing or scientific research, which has a low level of environmental pollutants such as dust, airborne microbes, aerosol particles and chemical vapors. More accurately, a cleanroom has a controlled level of contamination that is specified by the number of particles per cubic meter at a specified particle size.

In industry, cleanrooms are used in manufacture of electronics, microelectronics, semiconductors, optical instruments, medical devices and precision machinery where static electricity may ignite adhering dust and cause defects. Also, biological cleanrooms are used in R&D laboratories and manufacturing plants of the chemical, pharmaceutical and food processing industries where growth of bacteria is controlled.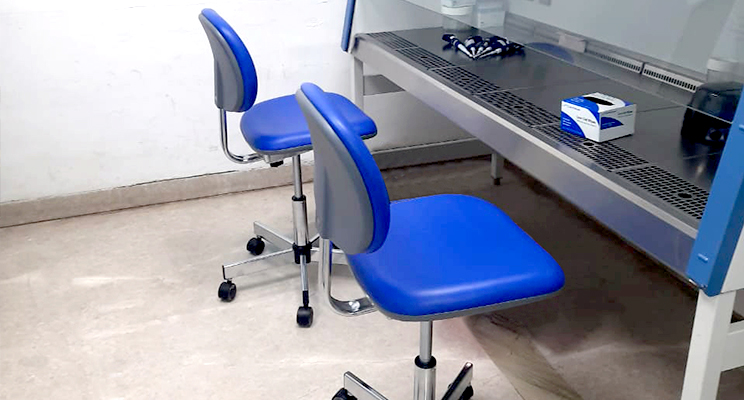 In such work environments, temperature, humidity and room pressure is controlled, and furniture, work clothes, etc. have to be controlled and be easily cleaned to maintain the cleanroom's hygiene levels.
Cleanroom chairs from Messung
Messung brings cleanroom chairs from Uchida, Japan. These innovative, high-quality chairs are certified by ISO class 100, and are designed and manufactured to fulfill basic cleanroom criteria:

Does not bring in foreign objects & pollutants:
Every Uchida chair is manufactured in a controlled environment where extra dust and dirt are not deposited. Every chair is checked for ESD, and a final cleaning is done at the cleanroom in the Uchida factory. To reduce possibility of contamination, particles are squeezed out before clean packing for shipment. Cleanroom packing ensures the chair is easily washed by air to move dirt & dust when being installed in the customer's cleanroom.
Does not generate pollutants:
Uchida chairs are designed so they do not generate dust and dirt easily. Generally, the urethane cushion decomposes and discharges as dust through the joints or fabric. Thanks to the wide plastic trim at the joints of the seat and backrest, dust from the urethane cushion is contained and cannot escape easily. A dustproof cloth covering the seat cushion further prevents the dust and dirt from escaping.
Does not accumulate the pollutants:
Uchida cleanroom chairs use conductive materials to avoid accumulating dust. This suppresses ESD and prevents the risk of ESD damage to electrical equipment and components. Conductive material is woven into the leather used for the seat & backrest, and all parts are ESD safe to ensure high ESD performance of Uchida chairs.
Conclusion
Uchida cleanroom chairs are brought to India by Messung, a leader in Workplace Technology solutions for industrial applications. These ESD-safe cleanroom chairs are the right choice for controlled environment applications that require static control. Designed to conform to ISO Class 100 standards, their ESD parts and conductive leather upholstery with surface resistivity ensure ESD protection.